DAVISON (DTV) – (1/16/2020 – There are several new club meetings and event dates you need to know and we have all of them!
Clubs:
First, the Creative Writing Club meets today from 2:45-4:00 in the DAE. In Mrs. Fowler's room you'll put your passion for writing to the test. You can choose to share your pieces or keep them to yourself, that is all up to you. It is never too late to join either!
The Anime Club will meet Monday, January 27th in Mrs. Stedry's room 220, from 2:45-3:30.
The Davison Busters Skeet Club is starting its' 13th season and they need members! Some prerequisites are as follows: 2.5 GPA, excellent attendance, Cardinal Code, and behavior. Sign up with Mrs. Trombley at the DAE building. You will be notified of your acceptance as soon as first semester grades are posted! Meetings will begin soon!
Snowcoming Dance:
The Snowcoming dance is a fun time for everyone, and it's coming up! On the first February you can get your groove on at the Davison High School gym from 7pm-10pm. Tickets are seven dollars in the cafeteria but are ten at the door. These tickets will begin to sell on January 21st. If you are from another school don't worry, you can still go! You to have an administrator
from your school complete a dance guest application. There are also forms in the main office. Then, they should give you a guest pass which will let you enter. There is also a spirit week coming up! Be sure to fit in with the crowd and check it out below!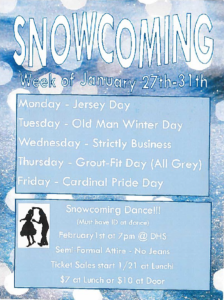 DHS Intercession 2.0:
The second intercession of the year is starting Monday, February 17th and will go until the 20th. There will be College Visits, Community Service opportunities, SAT Preparation, Baseball/Softball Officials Certification, Street Art Murals and Financial Coaching for Teens. Deadline for applying for these activities will be Wednesday, January 22nd.
Class of 2020 Project Graduation:
Parent volunteers are needed at Project Graduation! There will be an informational meeting January 22nd at 7pm. It will be in the AMR (Door #12) at DHS.