Cross town rivals Detroit Cass Tech and Detroit Catholic Central went head to head at Ford Field for the division 1 finals.  The game started off with a touchdown for Cass Tech from number 16, Tenoe Allen. Both teams are equality matched in both skill and willpower to win the state championship, causing a lot of back and forth between the teams.  With minutes left the Detroit Central Shamrocks got two touchdowns in 12 seconds  one from number 38, Isaac Darkangelo and a  35 yard pass interception for a touchdown by number 84, Jack Morris ran in with a 35 yard to end the first quarter with a score of 14 to 7 to Detroit Central
Going into the second quarter with Cass Tech came  back with a vengeance starting with number 16 ,Tenoe Allen running in 20 yards and falling into the end zone for a touchdown tying the game up . With 5 minutes left Cass Tech came in for another touchdown Number 2, Donovan Johnson ran in 60 yards for a touchdown putting the Technicians in the lead 21-14. The Shamrocks are putting up a fight though but the Technicians just keep stopping them, not letting them get anywhere with the ball. Going to halftime with a score of 21-14 to Cass Tech.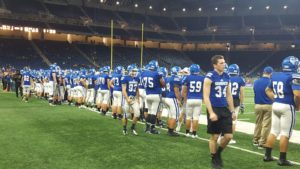 The Third Quarter starts with Detroit Catholic Kicking off. Touch down by Cass Tech's  number 13, Donovan Parker with 42 yards. The score  28-14 with 10:58 remaining in the Third quarter. Touchdown by Cass Tech's number 9, Donovan Jones scores, bringing the score up to 35-14. There's 8:02 remaining in the Third quarter and Cass Tech is destroying Detroit Catholic. Cass Tech Scores again with 6:15 remaining in the third quarter. Number 2,  Johnson celebrates as the prospects of the, winning look good. With 3:50 remaining one of Sham rocks players leave the field with a leg injury one of many in today's game. The Third quarter ends with the score of 42-14.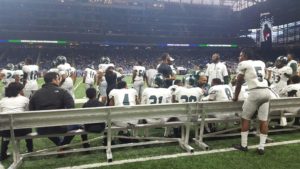 Fourth Quarter is here and the game is already set for the end. Cass Tech is dominating but the shamrocks are not about give up. Cass Tech scores again, only a few minutes into the fourth quarter. The clock remains running and won't stop for anything but timeouts and injuries. A Timeout was called with 6:26 remaining in the game. Detroit Catholic finally scores with 00:47 remaining but it won't be enough to win this game. The score is left at 49-20 as the game comes to an end with Cass Tech taking the victory of the Division 1 finals and the coach bolting onto the field with a big smile on his face.