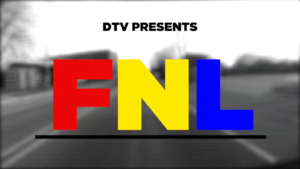 On Channel 191 or at dtvnews.org
Macho Man, Space Travel, and Tee-Ball. What do these have to do with each other? FNL! FNL is a production put on by DTV for the past 2 years during May, FNL stands for "Friday Night Live" and is a spoof of "Saturday Night Live." The show consists of live skits preformed in the DHS auditorium and digital shorts in-between live skits played on the auditorium's projector.  This is the 3rd year in a row DTV has put this show on, the show was an idea of DTV Alumni Christian Thwing's and he proposed the show in his junior year of high school.  The show was a way to show what the Promotions department of DTV  had to offer in comparison to DTV's Sports and News departments, since the Promotions department had never really done their own special. The first two shows in 2014 and 2015 were a resounding success, and DTV is shooting for the stars with the 3rd show. This year's cast list includes:
Merek Alam
Cain Pedersen
Dane Morgan
Grant Polmanteer
Trace Clinton
Lucas Magno
Colin O'Lear
Calvin Phillips
Chris Kazor
Suleiman Matarweh
And this year's host is Dane Morgan! And in the middle of the show will be a musical performance from Chloe Pedersen and Jacob Prim.
Here's a preview of some of the goofs and gaffs to be seen! Make sure you don't miss out on some good laughs!