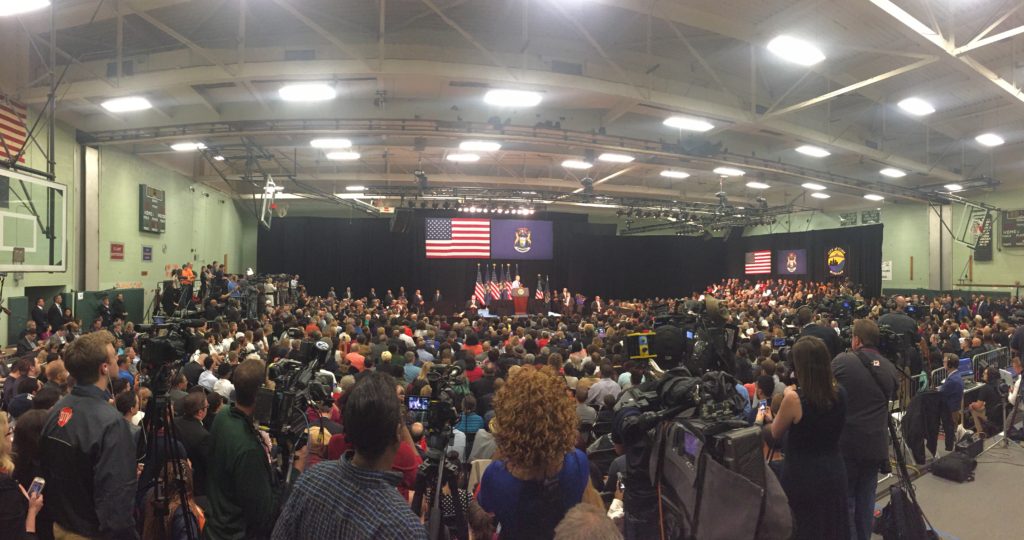 President Obama came to Flint on May 4th, after receiving a letter from Little Miss Flint. This was a symbolic moment, reassuring the city that they are not alone, and that the government has their back. He followed up on the EPA and Snyder's comments, saying the water was safe to drink with a filter, excluding those who are pregnant or under six years old.
Obama also went on to say that what happened in Flint was not by anyone's intention to hurt the city, but instead stated that "part of what contributed to this crisis was a broader mindset, a bigger attitude, a corrosive attitude that exists in our politics and exists in too many levels of our government.
And it's a mindset that believes that less government is the highest good no matter what." Obama also spoke about fixing the infrastructure, in which the room he was speaking in was leaking by the minute. Before Obama took the stage at Northwestern High School, Governor Snyder did, the crowd being unwelcoming and booing him while he spoke.
This reason being the loss of trust in the state government and the fact that there is still no solution for the water. Along with Obama's appearance one questions  remains; where does the people of Flint's trust now lie.
You can watch Governor Snyder's unwarm welcome: https://www.youtube.com/watch?v=xVh6b8Iooew
And also watch Jordyn Bruns' coverage of Obama's visit to Flint: https://www.youtube.com/watch?v=xVh6b8Iooew