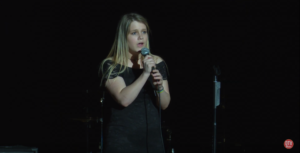 DAVISON(DTV)-(4/5/2019) Davison High School's annual talent show took place on Friday, April 12th and the performances were truly amazing.  After a tough audition, there was 28 participants who were eager to take the stage.  The 2019 talent show contestants were:
more info on types of performances, who put it on, where money went to, who judged, how many people were there, did anything unique happen…..
Madelyn Brock
Nataleigh Gell
Sarah Johnson
Bailey Kinnamon
Jessie McCurdy
Holly Morang
Magdelene Rose
Ri Saylor
Gabe Parish
As well as the group performances by:
Jacob Crotteau

Dylan Everett

Miles Russell

Montgomery Stheiner

Charles Daunt

Lucas Daunt

Madeline Daunt

Kent Gieselman

Allison Glenn

Arielle Shamly

Kelsey Strader

Jalon Swinton

Taylor Walker

Allison Glenn

Kira Tavardos

Abby Tavardos

Paul Badour

Eric Bates

Tori Duckworth

Izabelle Moleski
At the end of the show, the judges had decided the top performances.  Tori Duckworth and Izabelle Moleski placed in 3rd with their performance of "idontwannabeyouanymore" by Billie Eilish.  The Daunt Experience a band formed by Charles Daunt, Lucas Daunt, Madeline Daunt, and Kent Gieselman (the experience), stole 2nd place with their rendition of "Paperback Writer" by The Beatles.  Finally, Holly Morang played her way to 1st place with "Cannon in D", arranged by Micheal Silverman.
Congratulations to all of the winners!