The Clarkston Wolves and the West Bloomfield Lakers face off at Ford Field for the division one state finals.The schools are not that far apart, about 20 minutes away from each other but they both meet up here in Detroit to battle it out For the division 1 state championship.  Both teams are coming into this game with a record of 10-2. They played against each other earlier this year and West BloomField blew Clarkston out 37-16. All the more reason for Clarkston to come looking for redemption.
The first quarter was a lot of going back and forth for each team, both were feeling each other out and trying to get a feel for the game.   It is a very defensive game that is pretty messy and all over the place.   But with a bad snap on a punt from Clarkston, the Lakers got a 2 point safety making the score 2-0 to Bloomfield. This game seems to be pretty unpredictable anything could happen and it could be anyone's game.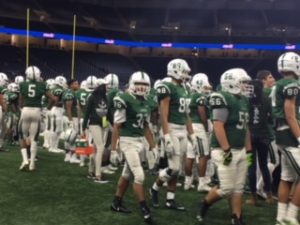 Clarkston started the 2nd quarter with a vengeance coming right out of the gate with a interception by  Zach Scott .  He picked off Bryce Veasey's pass in the end zone stopping a Bloomfield touchdown. Then Trevor King fumbled at the 44 yard line, for Bloomfield's second turn over  of the half.   With seconds left in the first half, Clarkston nailed  in with a 30 yard field goal, set up by a complete pass by West Bloomfield's Connor Heaton to. Then a roughing the passer penalty on Bloomfield. Ending the 2nd quarter with a score of 3-2 to Clarkston.
The Lakers started out the 3rd quarter in control of the ball. Pushing though but Clarkston's defense blocking them from getting anywhere. Clarkston then gains control for a while then Bloomfield again, a lot of back and forth still. Both teams really counting on their defense not a lot of offensive plays.  A great play by  West Bloomfield's Bryce Veasley with a pass complete to Taj Mustapha who ran 52 yards into Clarkston territory, but they were forced to punt.
Clarkston started the last quarter with the ball but west Bloomfield quickly got it back in their control, Clarkston getting a roughing the passer penalty after  Bryce Veasley  incomplete pass to AJ Abbott. With a great pass by Bryce Veasley  to James Faulkner to run 23 yards for a 4th down. And another great pass by Bryce Veasley to Taj Mustapha  who ran  9 yards for a West Bloomfeild first down . With 5 minutes left  in the game the score still has not moved. With a little over a minute left in the game Clarkston's Tieler Houston interception to wrap up the game declaring Clarkston the Divison 1 champs with an ending score of 3 to 2.