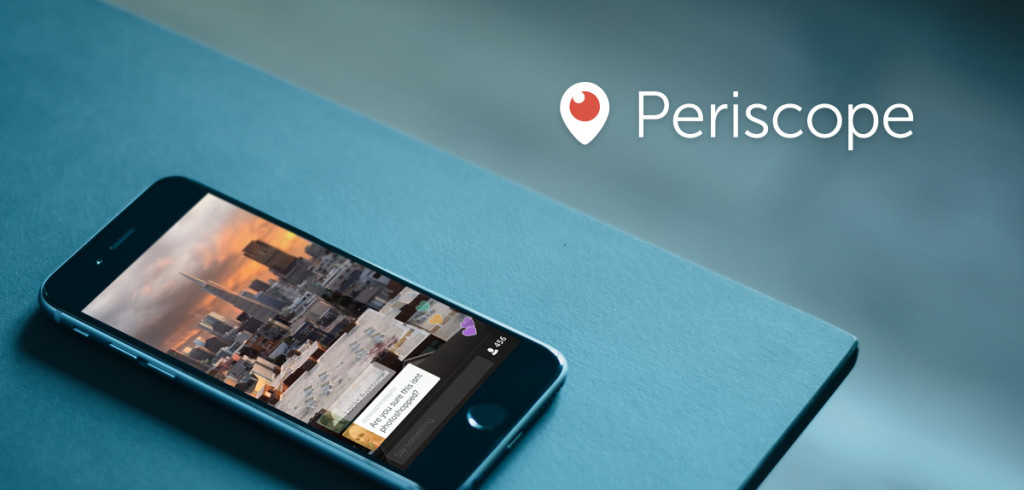 Periscope is changing the way we think about mobile video. In the mobile phone world, YouTube and well… YouTube is the most dominant video player and up-loader available. It was essentially the only video sharing service on iPhones until Snapchat came along. However even on Snapchat, users are only surrounded by other selected users. The audience doesn't grow wider than that. Eventually, Vimeo released it's mobile platform,  but Vimeo's policy only allows for professional videos and films, not everyday user content.  In terms of livestreaming, there's Twitch, Livestream.com, Ustream, and YouNow. While some of these sites did offer a way to communicate/stream and use the apps on smartphones, they just didn't have the name power or the marketing. Not to mention the apps were shaky – sometimes they worked, sometimes not so much.
Then came Periscope.
Why is it better than the rest? It's connected with Twitter, the biggest social network in America, apart from Facebook and YouTube. The sign up is as easy as writing an email. You click a few buttons and you're in. Not only that but the platform itself works. It doesn't crash, it doesn't become unstable. It just works, and that doesn't always happen with streaming and video apps as they're known to be buggy.
The idea was conceived during Pakistan protests in 2013 when one of the founders, Kayvon Beykpour was there when the protests broke out. He wasn't near the situation, but was obsessively checking Twitter and constantly reading about the protests. After browsing for moments on end, it bothered him he couldn't truly see what was happening live through the eyes of someone on the scene.1http://www.businessinsider.com/what-is-periscope-and-why-twitter-bought-it-2015-3
Developed in February 2014 as "Bounty", Periscope was funded nearly $1.5 million in its early stages.2https://www.producthunt.com/live/kayvon-beykpour Next January rolled around, and less than a year after its start and funding, Periscope was bought by Twitter. The potential was that strong.
Ever since then the app has had a meteoric rise. According to them, they surpassed 10 millions Periscope accounts in August and is continuously growing. Not only do they have a big following, but nearly "40 years of video is watched per day".3https://medium.com/@periscope/periscope-by-the-numbers-6b23dc6a1704#.7singfz4g
In short, it's going to be a big thing for a long time. Here's how to use it:
This the first screen you'll see after you log in to the app. From here you can see whoever is broadcasting on the app all across the world. The first time I used it I think I was watching a stream of  downtown NYC and then I switched over to a person in Argentina hiking. It's a crazy experience.
The main part of this app is the broadcast tool. You select the camera tab and it will you take you to this screen which will be showing what your front or back camera is pointing at.
From the audience's point of view, there is a chat tool which lets the broadcaster and audience communicate.
It's a simple app, but what it enables its users to do is very powerful and full of potential. It's already been used in breaking news events, across the globe. While the event was horrific, the app was heavily used during the Paris terrorist attacks by journalists, reporters, and everyday people in the aftermath of what happened. People worldwide, myself included, felt the emotion and chaos on that day through an app on a phone.
With seemingly every app, controversy follows, and Periscope has its issues. People have argued it can be used for inappropriate reasons and can be too surreal. Periscope has showcased a strong force against content not following their policies and it hasn't grown to be an issue since its birth as an app. The surreal part – that's up for users to decide.
Either way, Periscope has broken onto the scene in a very short time period and has transformed the way experiences are shared. It will only keep going up from here.
Make sure to follow DTV on Periscope @DTV_Official to watch behind the scenes content, live events, and more!