DAVISON (DTV) – (9/18/23) – Davison art students had their art displayed at Credit Union One right off State Road. As well as AP Chemistry students scored higher than the Michigan and global average!
Art Students:
On September 12th, ten pieces from Davison students were chosen to be presented at an opening reception for Credit Union One's "Cardinal Gallery", these pieces will be displayed for the next year. Art teachers Ryan Kelsey, Bobbie McAllister, and Erin Sanderson joined their students to celebrate this huge accomplishment!
For a list of all student's art presented as well as a photo of some of the students in front of their art, check out the photo below:
Ap Chemistry Students:
Davison's very own AP Chemistry students scored higher than the Michigan AND the global average. All students passed, earning 3, 4's, and 5's. AP Chemistry is known as one of the hardest AP classes Davison offers!
Congratulations to all Art students whose art was presented as well as the AP Chemistry students who surpassed all expectations!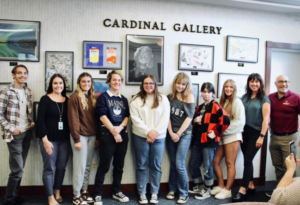 Pictured left to right:
Ewan Birmingham, Mrs. McAllister, Grace Wright, Paige O'Connell, Grace Roberts, Mackenzie Hescott, Audrey Murphy, Lillian Lyons, Mrs. Sanderrson, and Mr. Kelsey
Not Pictured: Sawyer Glennie, Olivia Hyatt, and Elizabeth Burton