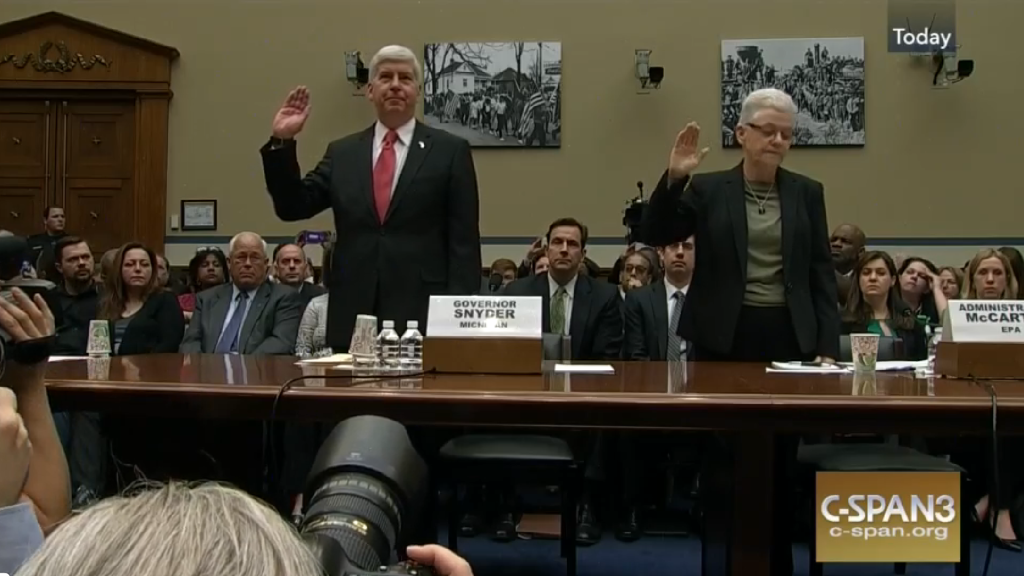 Accusations and blame riddled Tuesday's and Thursday's Congressional hearings on the Flint water contamination.
On Tuesday, former EPA Region 5 Administrator Susan Hedman, former emergency manager Darnell Earley, former Flint mayor Dayne Walling, and VA Tech. Professor Dr. Marc Edwards, all were in Washington D.C.  The hearing consisted mostly of back and forth finger-pointing of who did and didn't do what. Here is where Rep. Tim Walberg (R-MI) rips into Susan Hedman. Rep. Elijah Cummings (D-MD) called the continuing deflection "sickening". Overall, the main story line stayed the same.
Thursday's hearing continued to see the blame game, and unfortunately, partisan politics. Governor Rick Snyder and EPA Administrator Gina McCarthy both were apart of the panel. Throughout the hearing, Democrats tended to accuse Gov. Snyder and his administration, while on the other side of the aisle, Republicans continued to blame the EPA. Here's Rep. Matt Cartwright (D-PA) refusing to believe Snyder's testimony. On the flipside, here's Rep. Paul Gosar (R-AZ) placing blame onto McCarthy and the EPA. One of the more unique speakings came from Rep. Gerald Connolly (D-VA) as he not only acknowledged the committees partisan roadblocks, but especially pointed blame on the EM and Gov. Snyder's administration.
The hearings led to few new facts, and fingers continued to be pointed at the MDEQ, the EPA, Snyder's administration, and everyone involved.