DAVISON (DTV) – (10/14/2021) – There are a few things you need to know before the winter sports season begins.
 You must turn in these 4 forms in order to participate in athletics:
Valid sports physical dated on or after 4/15/21

Athlete Information Form

Emergency Information Form

Athletic Code of Conduct signature page
     2.  "All Clear Yellow Card":
When these documents are turned in you'll be given a yellow "all clear" card. You MUST give this card to your coach when you try out for your sport. If you don't have one, you CAN'T participate.
Here is the list of which sports begin their tryouts!: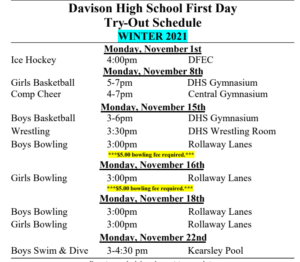 November 1st: Ice Hockey – 4:00 pm – DFEC
November 8th: Girls Basketball – 5-7 pm – DHS Gymnasium
Competitive Cheer – 4-7 pm – Central Gymnasium
November 15th: Boys Basketball – 3-6 pm – DHS Gymnasium
Wrestling – 3:30 pm – DHS Wrestling Room
Boys Bowling – 3:00 pm – Rollaway Lanes
November 16th: Girls Bowling – 3:00 pm – Rollaway Lanes
November 18th: Boys Bowling – 3:00 pm – Rollaway Lanes
Girls Bowling – 3:00 pm – Rollaway Lanes
November 22nd: Boys Swim & Dive – 3-4:30 pm – Kearsley Pool