DAVISON (DTV) – (9/20/2021) – Homecoming week is Monday, September 27th through Saturday, October 2nd and DTV has all the information you need to know.
Events: The events planned for Homecoming 2021 are looking good. Find the list of them below:
Tuesday – 1st Kickoff Assembly: An announcement will be over the PA letting you know when you class is to head down to the gym.

Wednesday – Powderpuff Game: The classic Powderpuff game will be happening Wednesday night at 7 p.m. The game is made up of girls from the junior and senior classes facing off in a game of flag football. The boys of both classes will be cheerleaders for the night. At half time, the boys will put on their performances with stunts, tricks, and dance moves. Also, the Homecoming King and Mr. Congeniality will be crowned during halftime.

Friday – Parade + Football Game: Be ready for the final pep assembly, the annual parade, and the football game. The parade will start at 5 p.m. down Clark Street and head towards downtown Davison. The Homecoming football game will kick off at 7 p.m. as the Cards take on Saginaw Arthur Hill. During halftime of the game the Homecoming Queen and Miss Congeniality will be crowned.

Saturday – Dance: Dress up for the yearly homecoming dance and get ready to boogie! The dance starts at 7 p.m. in the DHS gym. More information below.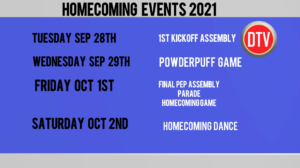 Spirit Week: Students are encouraged to wear outfits based on what was assigned that day. The days can be found below:
Monday – Mismatch day: Get ready to wear your best-mismatched outfit, which could be black and white socks or other different-colored and patterned apparel!

Tuesday – Halloween costumes and PJ day: Bust out your Halloween costume early as this day will be for the festive folks. Also, on this day, you can wear your pajamas. However, in order to wear your outfit, you must pay $1. No Halloween masks or hats are allowed.

Wednesday – Jersey day: Dig through that closet and find one of your favorite jerseys! It can be a professional shirt or even a school jersey.

Thursday – Class t-shirt: Information should be revealed soon on how to order your class t-shirt, so stay tuned!

Friday – Maroon and gold day: Show your school spirit by wearing the Davison Cardinals colors maroon and gold.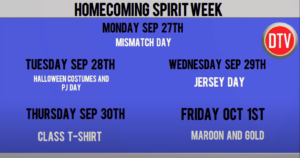 Homecoming Dance Information: Students who have a date that doesn't go to Davison must do an extra step
The Homecoming dance will be on Saturday, October 2nd, 2021 from 7 pm until 10 pm.
If you are bringing an outside guest they must be 20 or under. Nobody 21 or over is allowed and you must complete a school dance guest application. The form must be completed by your guest's school administrator (if they are still in school) and returned to DHS by noon, Friday, September 24th. These forms are available in the front office.
*You MUST wear your mask at all events indoors