Tuesday, April 7th
Michigan has had it's biggest single-day increase in coronavirus-related deaths: 118. This now puts Michigan at a total of 845 casualties and 18,970 confirmed cases.
The case-spread around Michigan is only getting bigger as well. There are 638 cases and 32 deaths here in Genesee County.
Politically speaking, Whitmer has made some changes.
Her new proposed 23-day resolution which extends the state emergency declaration. This will not effect Whitmer's Stay Home Stay Safe order.
Saturday, April 4th
Death toll and number of cases of coronavirus increased yet again.
Death toll increase: 61
Coronavirus cases increase: 1,481
Locally speaking, it has been stated that Meijer is to limit number of shoppers to promote social distancing and ask shoppers to do these things. A list of these new orders are below:
Asking customers to limit the number of shoppers per trip, while understanding that some customers may need additional assistance.

Implementing processes to monitor the number of customers in our stores. This includes managing the number of customers shopping to support proper social distancing practices.

Conducting daily health screenings and temperatures checks of team members as they arrive at the store.

Completing installation of protective plexiglass shields at all check lanes and pharmacies in its 248 supercenters and stores.

Adding signage and broadcast announcements inside the store educating customers about proper social distancing.

Temporarily suspending the weekly sales ad beginning April 12 to decrease customer count inside the store.
Friday, April 3rd
12,744 is how many cases of COVID-19 are in Michigan ans the death toll stands at 479.
According to WDIV-TV, "Michigan Gov. Gretchen Whitmer signed an Executive Order barring employers from retaliating against an employee who must stay home due to COVID-19."
Otherwise, there wasn't much news today, but that doesn't mean this pandemic is over.
Stay home, stay safe.
Thursday, April 2nd
At 10:30 in the morning, Gov. Gretchen Whitmer announced an executive order.
In this order, she officially closed all schools for the rest of the year. In-person learning will be suspended, meaning schools will move to online learning.
Davison Schools will attempt to have their online-schooling system in place and running by April 13th.
Superintendent Kevin Brown released what DCS will do in regards to this order in DTV's latest edition of Brown's Blog below!
Also, the state of Michigan becomes the 4th in the United States to hit 5 digits in coronavirus cases, reaching 10,791 total.
The death toll is now at 417, a big jump from yesterday.
You'll see a graph showing the increase in cases provided by WDIV-TV
Remember, stay home, stay safe.
Wednesday, April 1st
Moving from March to April, the cases of coronavirus increased. 7,615 to 9,334 cases in just one day and 259 to 337 deaths.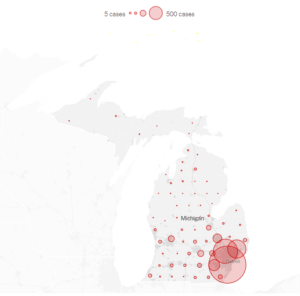 *credit to New York Times
 Two Graphs representing the number of cases and deaths reported daily are shown below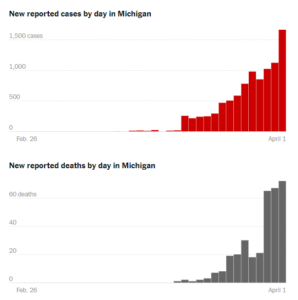 *credit to New York Times
As shown in both graphs, the overall trend is an increase in cases and deaths reported daily.
Tuesday, March 31st
The number of cases of COVID-19 in Michigan increased 1,117 from yesterday, amounting to a total of 7,615. Also, the number of people who died due to this illness jumped 75, creating a total of 259.
Below is a graph of positive tests in Michigan:
According to MLive, 81% of all Michigan cases are in Oakland, Wayne and Macomb counties.
This percentage can be due to more aggressive testing and the area's higher population.
Governor Whitmer has announced she will make her decision on reopening schools by Thursday, April 2nd.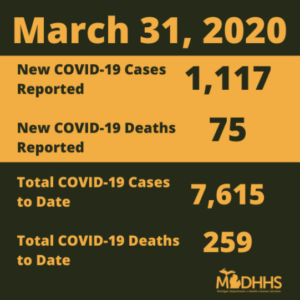 Monday, March 30th
Michigan has the fourth-most amount of confirmed cases of COVID-19 in the United States, amounting to 6,498. Out of those cases, there have been 183 deaths in the state of Michigan as shown in the map below:
From March 29th to March 30th, it was the largest single-day increase in cases in Michigan.
Gov. Whitmer is expected to sign an executive bill that will cancel school for the rest of the year. 7 states have already done this like Arizona and Kansas and many more are expected to like Michigan and Ohio.

Whitmer announced that students of Michigan will return to school a week later than scheduled: April 13th
Friday, March 27th
As expected, the number of deaths and cases of coronavirus have increased. 3,652 total confirmed cases and 92 deaths is where we stand as of March 27th in the afternoon. 
Thursday, March 26th
The number of cases skyrocketed to just under 3,000 and there was a an increase in deaths as well.
To stay updated on the daily information, check out the Michigan Gov. website!
Besides that, not much more has happened in the news.
Looking more locally, a brand-new edition of DTV's Brown's Blog was released! The video is below!
Wednesday, March 25th
43: That is the new death total for the state of Michigan due to coronavirus. A daily record-breaking 19 deaths.
2,295: This is the new number of confirmed cases of coronavirus in the mitten. A daily record-breaking 504 increase.
The age-breakdown of testing positive for COVID-19 is listed below.
0-19 – 1%
20-29 – 8%
30-39 – 12%
40-49 – 17%
50-59 – 19%
60-69 – 21%
70-79 – 14%
80+ – 8%
Below this, you'll find a graph made by the WXYZ representing the COVID-19 cases in Michigan by county progression over time
Besides this info, today was just another day living with the COVID-19. Speaking of which, DTV's new video diary regarding this is up now!
Also, DTV News is still working on a big project that is coming out tomorrow, so stay updated by checking here and on our website dtvnews.org!
Tuesday, March 24th
As expected, the cases in Michigan for coronavirus have risen, and today was it's highest daily total at about 463. This makes the total at 1,791 cases. Also, the death toll is at 24; a 9-death increase. Below, you'll find a list of where each case was found:
Bay – 1     

Berrien – 3     

Calhoun – 1     

Charlevoix -1     

Clinton – 3     

Detroit City – 152   

Eaton – 1     

Emmet – 1     

Genesee – 11     

Gladwin – 1     

Grand Traverse – 2     

Hillsdale – 1     

Ingham – 3     

Isabella – 2     

Jackson – 5     

Kalkaska – 1     

Kent – 3     

Lapeer – 1     

Livingston – 4     

Macomb – 50 

Manistee – 1     

Monroe – 5     

Muskegon – 2     

Newaygo – 1     

Oakland – 99     

Otsego – 2     

Ottawa – 4     

Saginaw – 6     

St. Clair – 1     

Washtenaw – 8

Wayne – 83

Out of State – 2     

Not Reported – 2    
credit to wzzm13
DTV is working on some new big things that will be seen soon, so stay tuned!
Monday, March 23rd
Yet again, the number of cases for Coronavirus in Michigan has risen by a large amount: 1,328 to be exact. Also, there are 15 deaths within the state of Michigan. Below is a list of where the deaths happened:
Three in Oakland County.

Two in the city of Detroit

One in Macomb County

One in Wayne County
Michigan also holds the 8th most amount of cases out of all 50 states.
Genesee County is now at a total of 23 confirmed cases.
Gretchen Whitmer announces that all nonessential members of the workforce to stay home.
Also, a Public Safety Alert was announced by the Executive Office of the Governor at about 8:18pm today. In it, the State of Michigan's Stay Home Stay Safe order is to take effect at midnight tonight and nonessential travel is prohibited. It said, "You may leave your home for health and safety reasons, to get groceries and supplies, for certain outdoor activities, and to take care of others".
If you have any other questions be sure to visit the Michigan Government webpage regarding this information.
Sunday, March 22nd
Many things happened today with the COVID-19 pandemic in Michigan and we have the details.
Number of cases is at 1,035, a 248 case increase

There are now 8 deaths due to Coronavirus in Michigan- 4 in Detroit, 1 in Macomb County, 1 in Wayne County, and 1 in Kent County
Governor Gretchen Whitmer did many things today as well:
She ensured that all seniors in Michigan WILL graduate this year

Once again she repeated her for Trump to allow an open enrollment healthcare period under the Affordable Care Act
Be sure to keep safe during these times by following healthy precautions as this virus is to be dealt with seriously.
Saturday, March 21st
The number of Coronavirus cases sprang up to 787 with another death due to this pandemic.
Below you'll find a graph produced by MLive representing the number of positive tests for COVUD-19 as well as deaths over time.
Gretchen Whitmer also had a couple of announcements to make:
First, she issued an executive order that closed all "non-essential personal care services" to be closed through April 13th.

Also, she wants funding to begin the National Guard only for humanitarian missions.

Governor Whitmer and Ohio Gonvernor, Mike DeWine, wrote and sent a letter to President Donald Trump asking for help with the auto industry

Last, she instructed to postpone any "non-essential" medical and dental procedures beginning March 20 until coronavirus-prompted State of Emergency is lifted
Friday, March 20th
It has just been announced that there are now 549 cases of COVID-19 in Michigan. Also, the death toll due to Coronavirus now at 4 after a 50-year old man in Oakland County passed away. The 3 other Michigan deaths included 2 in the city of Detroit and the other in Wayne County.
Also, Genesee County Health Director announces that there are 4 cases of Coronavirus in the county. He stated that 3 of which were sent and tested at a commercial lab while the other was tested at the state lab.
You may be seeing the rapid increase in results because he announced that commercial labs will conduct tests as well as the state lab.
Another reason for the quick jump in results can be caused by the government sending more personal protection equipment earlier this week to health care workers in Genesee County.
We will be back tomorrow with more information regarding this pandemic; but for now, see how DTV students' lives have been affected today, March 20th.
Thursday, March 19th
Again, more cases were confirmed. Although, instead of a slight 10-15 daily case increase, the number of cases tripled. This now creates a new total of 334 cases. Below is a list of where most of them are found:
Oakland County – 105

Detroit – 75

Macomb County – 55

Wayne Country 44
Many other things happened.
The death toll of Coronavirus in Michigan hit 3
Kroger is going to devote the first hour (7am to 8am) of every Monday, Wednesday, and Thursday expectant mothers, first responders, seniors and people with compromised immune systems (Begins March 23rd).
Dr. Joneigh Khaldun, Chief medical executive and Chief deputy for health Michigan, announced that they're now able to give out testing results from hospitals and other entities instead of only the state laboratory.
Also, the age of people affected COVID-19 has been spread out, including younger generations:
Age Range            %
0 to 19 years    –  1%
20 to 29 years  –  10%
30 to 39 years  –  18%
40 to 49 years  –  19%
50 to 59 years  –  19%
60 to 69 years  –  18%
70 to 79 years  –    8%
80+ years         –    5%
Not Reported    –    2%
*credit to Fox 2 Detroit
Looking to the more national level, President Donald Trump made a couple of announcements.
First, he invoked the Wartime Production Act. This allows the federal government to have companies to manufacture products that are in need. Products would include:
MRE's

Hand Sanitizer

Face Masks
And many more related products.
Trump also made it so that all civilians can get tested for COVID-19, free of charge. This is a great opportunity for you and others to get tested in order to ensure you and others are safe and healthy.
As the number of cases increased by 254 in just one day and the death toll increased, this shows this pandemic needs to be taken seriously. Take the necessary precautions to practice your hygiene, wash your hands often. and cover your coughs, sneezes, etc. For a more in-depth look of what to do to ensure healthiness, we have an article as the second headline on our website dtvnews.org.
Wednesday, March 18th
More cases of Coronavirus were confirmed by the chief medical executive of Department of Health and Human Services's Joneigh S. Khaldun. The new total is up to 110 and there has been one death reported. The casualty was announced by Beaumont Hospital earlier today and it was a man being held who tested positive for COVID-19.
The MDHHS revealed a new way of reporting confirmed cases. There will be a tracker on the state website updated daily. Also, the "MDHHS will no longer report the number of persons under investigation, tests pending or referred for assessment and/or monitoring to date and total assessment and/or monitoring referrals under active monitoring", says WDIV-TV in Detroit.
Also, the Michigan Army National Guard will help the MDHHS by gathering and packing protective gear by order of Gov. Gretchen Whitmer. Once assembled and ready to ship, they'll be delivered to local public health departments across the mitten.
As the days go by and the number of confirmed cases increase it is important you stay as far away as you can from the disease. You can achieve this by washing your hands often, social distancing and staying home unless you absolutely need to leave.
We will have more news for you tomorrow regarding this pandemic.
Tuesday, March 17th
It has been announced that there are 11 more cases added to the total in Michigan. This means that there are 65 confirmed cases of COVID-19 in the mitten.
Most of these cases are located in southeastern Michigan, so if you're from that area be sure to be extra careful.
All cases in Michigan are located in these counties:
Bay County – 1

Charlevoix County – 1

Ingham County – 2

Jackson County – 1

Kent County – 5

Leelanau County – 1

Macomb County – 8

Monroe County – 1

Montcalm County – 1

Oakland County – 16

Otsego County – 1

Ottawa County – 1

St. Clair County – 2

Washtenaw County – 7

Wayne County – 17
If lists aren't your style, here is a map created by www.wzzm13.com
Coronavirus is still spreading and still needs to be taken seriously because it can arrive in any place at any given moment. Please take the precautions necessary in order to stay safe. You can find some ways to be healthy in an article we made labeled, "Postponements set due to world-wide virus."
Monday, March 16th
It is the beginning of the week and DTV has more news regarding this widespread pandemic labeled Coronavirus.
The Michigan Department of Health and Human Services (MDHHS) revealed the number of confirmed cases jumped to 54

Gov. Gretchen Whitmer declared a plan to prohibit all indoor events that have more than 50 people. This will be effective on Tuesday and end on April 5th

All restaurants were ordered to move to carry out only

She also signed an order increasing unemployment assets to guide and care for people affected by changes the coronavirus has caused
With another day in the books and many more confirmed cases, we are left with one question: When will this all end? Unfortunately, nobody knows the answer to this, but with all of the precautions being taken and medicine-related products being made, it should end quicker than we think. For now, we will leave you with DTV's Day 5 of Life During COVID-19.
Sunday, March 15th
For the first half of Sunday, truthfully, nothing much happened at all. This was until at about 6pm when Gov. Whitmer came out with a speech regarding the Coronavirus pandemic.
She announced that there are now a total of 45 confirmed cases in Michigan as of today

Price gouging laws will be taking place as well as semi-weight limit lifting to ensure stores are restocked quickly

There is a hotline civilians can call to see if they have COVID-19 related questions or symptoms

Whitmer requested for more funding from President Trump to cancel the spread of this virus

Last, she asked people to stay away from social gatherings and stagger grocery shopping
Tomorrow will be the day many people return back to work where Coronavirus could be present. Although the chances of it are low, it is still possible. Return back tomorrow where we will inform you of the most recent news!
Saturday, March 14th
There are now 33 confirmed cases of Coronavirus in Michigan, as 8 were added.
Also, the Michigan Department of Health no longer must distribute positive cases to the CDC for approval. Every positive test found by Michigan health officials is now considered confirmed.
Last, gatherings of 250 or more people are temporarily banished. 
The location of all 33 cases in the mitten are listed below:
Bay County – 1

Charlevoix County – 1

Ingham County – 1

Kent County – 3

Macomb County – 2

Monroe County – 1

Montcalm County – 1

Oakland County – 9

St. Clair County – 1

Washtenaw County – 3

Wayne County – 9

Undetermined – 1
*credit to www.wzzm13.com
Stay tuned here at DTV for more news about the Coronavirus pandemic in Michigan.
Friday, March 13th
Gretchen Whitmer issued Executive Order 2020-5, which will cancel all events and gatherings in which 250 people or more will be at.  The order goes into effect at 5pm, and will end on April 5th, also at 5pm.
On the national level, President Trump is to declare a national emergency and has given public address at 3pm.
In this, he stated that $50 billion will be opened up to help stop Coronavirus and support the country. Also, he is empowering the secretary of Health and Human Services to waive certain laws and regulations to ensure the virus can be contained and patients can be treated.
You'll find a slideshow below of what stores in Davison looked like today.
Thursday, March 12th
On March 12th, at around 11pm, Michigan Governor Gretchen Whitmer released information regarding school postponements due to Coronavirus. Starting this Monday, March 16th until April 5th ALL MICHIGAN schools will be canceled. There are more details to come which we will have you updated on over on our Twitter and Facebook pages.
For now, however, in order to stop the spread DTV has made an article on everything about Coronavirus: what it is, how it's spread, and how to stop it from circulating.
Also, check out DCS Superintendent Kevin Brown's Blog regarding Coronavirus and what it'll do for the schools in Davison. The Brown's Blog playlist is found on the front page of our website and on our YouTube Channel DTV News. The latest episode can be found below!
This page will be updated daily with up-to-date information regarding this pandemic.